Are you lacking a space to display your valuables or souvenirs? Maybe you need a place to keep your CDs or books? If your existing shelves are not serving the purpose, it could be time to ponder over some custom shelving units made for your home.
Many affordable solutions mean you don't have to repent over congested space anymore. So if you are looking for the right solution to your storage issues, here's why custom shelving could be the answer.
Apart from adding space to your rooms, they can accentuate the elegance of your home. In a nutshell, custom shelves improve the functionality as well as the aesthetics of your home. You can even use custom-made shelves to make your room looks larger.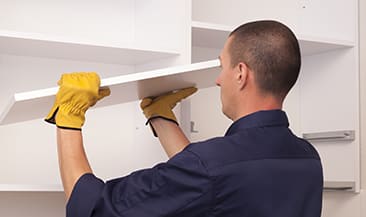 Here we have rounded up some key advantages of custom-made shelving.
Creating Space:
The key advantage of custom shelving is that it lets you create space in your congested rooms. For example, in the living room custom shelves can be used to keep books, DVDs, and books alongside your TV.
You can create a storage space for the detergents and other cleaning supplies in your laundry room. You can also install custom shelves in the kitchen for added space.
Custom shelves ensure a lot of storage space compared to pre-installed shelves because they are made to fit your space—leaving no space unused.
Showcasing Your Personality:
You might not notice it but custom shelves unleash your aesthetic sense. After all, the items you choose reflect your tastes and interests. Custom-made shelves are available in different designs. A wide range of shelves will surely make you spoilt for choices but you can efficiently narrow down your choices by considering your tastes.
Enhancing Your Space:
If you have congested space, custom-made shelving can accentuate your paces. You can start by installing a shelving system on a wall. You can also go for free-floating shelves. With custom shelves, you can also create an illusion of a larger room by installing tall shelves.
Optimizing Your Closet:
A small closet is not practical especially if you require more space. If you are looking to accommodate your wardrobe, custom-made shelving can be useful to optimize your closet. Custom-made shelving also comes in options like bars and baskets. With this, you can organize clothing and other items.
Larger closets can also be optimized from additional shelving. You can convert a walk-in closet into your personal dressing room. Install a floor-to-ceiling shelving unit on or more walls to store your outfits, and use a small bookcase to showcase your perfumes and accessories. You can also use a bookcase or two to showcase your shoe collection and can make it easier to find the right pair of shoes.
Protecting Your Items:
Custom shelves not only keep your valuable items organized but also protect them from damage. You can keep them safe and secure. Some things are meant for showcasing while others might be better off kept in a safe place. Built-in shelving can do that for you.
Organizing Your Clutter:
Custom-made shelves are useful when it comes to organizing things. Shelves can hold a variety of things, and you can place them within eyesight so that they can be accessible.
Wrapping Up…
Now that you get familiar with the advantages of a custom shelving system, it is to consider an installer. There are many custom shelves installers to choose from. But make sure to choose the right one.
Ask the near and dear ones maybe they know an efficient installer. If not, check out them online and choose the one with good reviews. After choosing the builder, talk to them and tell them how you want to get your custom-made shelving installed.
At NYHandymanNYC, we offer high-quality custom shelving installation services at reasonable prices. We have extensive experience and specialization in installing and repairing all types of custom shelves. Get in touch now to install the right custom shelves in your living spaces.